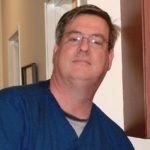 Mitchell J. Giangobbe, MD FACS is a general and vascular surgeon who practices in Sun City West, Arizona. He has a B.A. in Physics from Washington University in St. Louis (1983). He received his medical degree from the University of Arizona (1990) and did his surgery training at the University of Iowa (1995).
Professional Life
Dr. Giangobbe is certified by the American Board of Surgery. He is a diplomate of the American Board of Venous and Lymphatic Medicine. He is qualified as a Registered Vascular Technologist (RVT). He holds Certification in Health Care Quality and Management (HCQM), is a URAC certified reviewer, and a diplomate of the American Board of Quality Assurance and Utilization Review Physicians (ABQAURP).
Doctor Giangobbe has practiced in Sun City West for more than 20 years. He is the former Chief of Surgery at Del E. Webb Memorial Hospital. He has been featured in Phoenix Magazine's Top Docs, America's Top Surgeons, and has appeared on television, radio and across the internet for his medical expertise. 
Current Practice
Dr. Giangobbe specializes in the treatment of venous and lymphatic diseases. That includes problems like varicose veins, chronic leg swelling and pain, and wounds or sores that won't heal.
Dr. Giangobbe's Practice Philosophy
The son of a much smarter family doctor, the younger Dr. "G" grew up seeing firsthand that the successful practice of medicine was more than just a doctor's technical skills or gadgetry. Despite the current rush toward "improving" medical care by removing the human element, Doctor Giangobbe still follows his father's wise advice of listening first, caring second, and acting third.
Personal
Born in Phoenix, Arizona, Dr. Giangobbe was raised in the west valley. He lives with his wife and two children in Litchfield Park. When not working (or fixing this site), he enjoys riding his e-bike, reading Flying magazine, and playing minecraft with his kids.